Voyageur Brigade Society
The Voyageur Brigade Society was established in 2009 to ensure that the enthusiasm generated by the 2008 David Thompson Brigade would persist into the future and that voyageur brigades would occur on a regular basis.
OUR GOALS ARE:
Provide access of information from previous brigades which will ease the planning task.
Archive documents and images from completed brigades.
Link paddlers with adventure.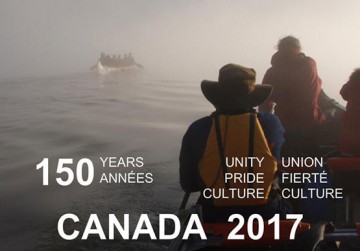 To celebrate the 150th anniversary of Canada's foundation a series of north canoe brigades will start on April 1 of 2017 and last all summer long. There will be brigades in all regions across Canada.  This is the big cross-Canada party for 2017.   We are using the CANOE as a symbol to make all Canadians aware of what a great country this is, how we were, are and will be all linked by cross continent and global trade and how valuable our rich water resources are. 
We are aiming to go from sea to sea to sea.  Is your community and team in for this yet?  
If you are interested, want to help, or want information, contact the organizers at 2017brigade@gmail.com