Crew Leader & Crew initial Registration link (opens Feb. 15)
CVBS Participant Registration link
Final Crew Registration link
Brigade support files link

Crew Newsletter #1 – 2023 Mar 23
Our committee has been meeting regularly as planning continues for our Brigade commencing with check in on July 6 th at Blue Ridge, paddling beginning on July 7 th in Whitecourt and ending in Athabasca on July 13 th . As part of our planning process, we will be providing updates on a regular basis to team captains with final information provided prior to the start of the Brigade. This is the first update for you to pass onto your team members as you continue planning as an integral part of helping celebrate with us on the Athabasca River in July.

Executive: Dan Moore Chair, Quentin Olson Co Chair, Peter Stone, Treasurer, Sarah MacDonald Registrar
Committee Members: Teresa Olson, Rick Zroback, Doug Yalte, Rob Minns, Ida Edwards, Felicia Ochs, Peter Kuelken and Petra Rowell. It is a very diverse group of dedicated individuals with a solid experience in brigading and vast experience with the local population and area we will be travelling through.

Registration Update: As of March 15 th, we are excited to inform everyone that we have 13 teams registered with a cross section of young paddlers and seasoned veterans. Through informal conversations we are expecting additional teams to be joining our Brigade over the next month. Initial registration will end on April 15th allowing teams to complete their final registration which will terminate on May 22 nd to allow the Committee to proceed with final planning for the Brigade. It is recommended that if there are any ground crew members that may be involved with any official Brigade activities that they buy a CVBS membership to be covered by liability insurance.
Safety Course: It is highly recommended that each team prior to the Brigade have a practice with members which should include canoe safety and ethics, switches and if possible procedures by paddlers to be followed if your canoe capsizes. We plan on having a safety course/demonstration on July 6 th in the afternoon at Blue Ridge for both people with limited big canoe experience and a refresher for individuals that may want to see what to do if your canoe does capsize. More information on this will be forthcoming.
Community Liaison: All camping sites have been secured for our use. Communication is ongoing with each community in regard to official ceremonies including providing meals for Brigade participants. We will ensure that all that information will be passed onto teams well in advance to make your planning easier.
Voyageur Costumes: There will be an official ceremony recognizing our arrival at Fort Assiniboine, and Athabasca at the present time with possibly other arrival ceremonies at Vega and Smith. We are not "authentic" voyageurs but wearing at least a voyageur type shirt and sash would be appreciated for the arrival and sponsored meals. Costume creativity is appreciated.
Flags: Flying flags in canoes and in parades are encouraged. Please ensure your flags do not represent something that could be considered offensive.
Film: Professional videographers have been in contact with our Brigade and are at the initial stages of planning to document our Brigade as part of a series of videos promoting this beautiful part of Alberta we are traveling through. Some of you will remember the videos created by Jay MacMillan in 2008 and 2011. Those particular videos have been passed on and a format similar to those videos will be used in our Brigade if the filming does occur.
Voyageur Games: There is discussion on having a series of competitions with Brigade teams as part of the event.
There will be more information sent out as planning progresses. If you have any important questions in regards to the Brigade please direct them through the registrar at science@awc-wpac.ca. Think paddling, July is fast approaching.
2023 Fort Assiniboine Bicentennial Voyageur Canoe Brigade Organizing Committee
Initial Brigade Notice – Winter 2023
The Fort Assiniboine Bicentennial Voyageur Canoe Brigade will be July 6 to July 13, 2023 from Whitecourt AB to Athabasca AB. The trip will be 6 days on the river plus a layover day at Fort Assiniboine to take in the bicentennial events.  Given the 200th anniversary of Fort Assiniboine, and that the river was once very important as a main fur trade route, and utilized by the likes of David Thompson, George Simpson, and Paul Kane, paddlers should be interested in participating.
The Brigade will have a check in process for all participants on July 6 th in the community of Blue Ridge with a Voyageur Canoe Safety Protocol session being conducted later that day. The total distance to be travelled on the river is approximately 343 kilometres. Other communities that will be visited on the Brigade are Fort Assiniboine, Vega, Chisholm and Smith.
The main impetus for this Brigade is to celebrate the 200 th anniversary of the founding of Fort Assiniboine by the Hudson Bay Company under the direction of George Simpson the governor of the Hudson Bay Company as a major stopover in the historic Columbia Express connecting eastern Canada to the Oregon territory as part of the company's continental fur trade. Since Canoe Brigades were the main way of linking all the various fur trading posts on the route it is only appropriate that we have a Modern Day Voyageur Canoe Brigade arrive at the present day community of Fort Assiniboine on July 8 th to help commemorate their Bicentennial celebrations. It should be noted that Fort Assiniboine held exceptional celebrations at the end of the 2017 Athabasca Brigade as part of Canada's 150 th to honour the paddlers who participated in that particular Brigade. Due to the success of that Brigade, besides the communities listed above, Woodlands County, Barrhead County, the Municipal District of Lesser Slave River and Athabasca County have all enthusiastically endorsed our Brigade and are planning celebrations recognizing our upcoming Brigade. Showcasing the recreational opportunities on this section of the Athabasca River is an integral part of our mandate in 2023.
Paddlers from all parts of western Canada have shown interest in participating in this event. Also, we are in contact with leaders of youth and indigenous paddlers who took part in the Peace Brigade to ensure younger paddlers take part in this event. The organizing committee at the present time is comprised of six individuals with extensive brigading experience. These individuals are Dan Moore, Teresa and Quentin Olson, Rick Zroback, Doug Yalte and Peter Stone. These individuals have not only taken part in several Brigades as participants but have been involved in all aspects of organizing Brigades, been team captains, organized community events and been involved in all organizing ground support functions. The Athabasca Watershed Council are supporters of our event with Sarah MacDonald from the Council being actively involved in helping organize this Brigade.
All inquiries regarding this Brigade including information on possible voyageur canoe availability and unattached paddlers can be directed to the registrar Sarah MacDonald by email at science@awc-wpac.ca. The organizing committee will try and answer your inquiries in a timely fashion. As with past CVBS brigades this brigade is organized by Canoe Crews, with each crew responsible for finding their canoe (some maybe available), paddling and camping gear, transportation to and during the brigade, and for those meals not provided by the brigade or communities passed through.
Brigade Schedule:
July 6 th Day 0 – Register, Camp and Safety Briefing at Blue Ridge
July 7 th Day 1 – Whitecourt to Blue Ridge – 24 kms – Camp at Blue Ridge
Day 1 – Total Distance – 24 kms
July 8 th – Day 2- Blue Ridge to Moose Wallow – 36 kms – Crew Change
July 8 th – Day 2- Moose Wallow to Fort Assiniboine – 32 kms – Camp at Fort Assiniboine
Day 2 – Total Distance – 68 kms
July 9 th – Day 3- Bicentennial Celebrations – Fort Assiniboine – Camp at Fort Assiniboine
July 10 th – Day 4 – Fort Assiniboine to Klondyke Ferry (Vega) – 45 kms – Camp at Vega
Day 4 – Total Distance – 45 kms
July 11 th – Day 5 – Klondyke Ferry (Vega) to Chisholm – 66 kms – Camp at Smith
Day 5 – Total Distance – 66 kms
July 12 th – Day 6 – Chisholm to Smith – 35 kms – Crew Change
July12th – Day 6 – Smith to Athabasca Riverbend Lodge – 31 kms – Camp at Lodge
Day 6 – Total Distance – 66 kms
July 13 th – Day 7 – Athabasca River Bend Lodge to Farm – 46 kms – Crew Change
July 13 th – Day 7 – Farm on E. side of river to Athabasca – 29 kms – End of Brigade and Camp at Athabasca
Day 7 – Total Distance – 75 kms
Total Distance – 344 kms, 8 nights camping
The Route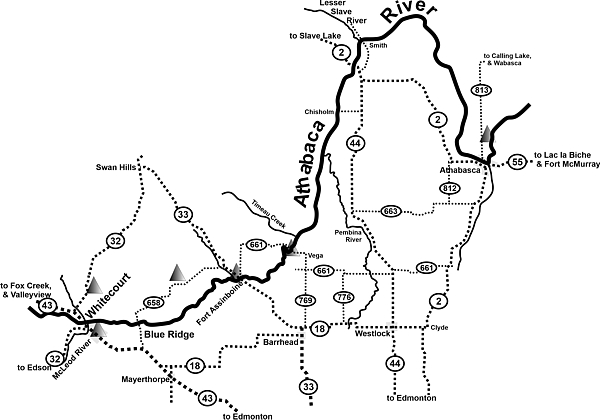 A past brigade on the Athabasca