for 2023:
2023 Fort Assiniboine Bicentennial Voayageur Canoe Brigade
Trent Severn Waterway 2023
Over the next six weeks our brigade general plans & schedules, safety plans and tentative budgets will be completed.  These details, plus a initial crew registration links will be be posted here to the CVBS website by mid January.  Our Initial brigade crew registrations will require a modest deposit and will be primarily an indication of intent, crew leadership, number of paddlers already interested, expression of need for a additional crew members, and need for equipment.  We should know by mid-January if extra canoes are available for each brigade.
Trent Severn Waterway 2023
In 2023  the Canadian Canoe Museum will move from its home in a former outboard motor factory in Peterborough to a state of the art facility on Peterborough's Little Lake.  To celebrate the new museum's grand opening, a brigade of  voyageur canoes and  paddlers from across Canada will paddle some 250 km through the Trent Severn Waterway to the museum's waterfront.
From July 28th to August 7th 2023 the 2023 Trent-Severn Waterway (TSW) Brigade will travel from Georgian Bay through the 24 locks, lakes and canals to the site of the new museum. Acknowledging traditional territories through which we will travel ,TSW 2023  has invited the Chippewas of Rama and Georgina Island First Nations, and the First Nations of Beausoleil, Curve Lake, Hiawatha, and Alderville to participate.
The Route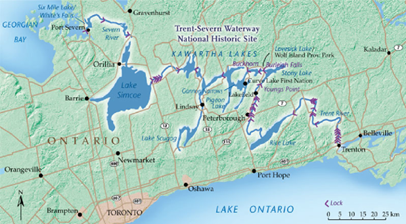 Last lock before the Canoe Museum in Peterborough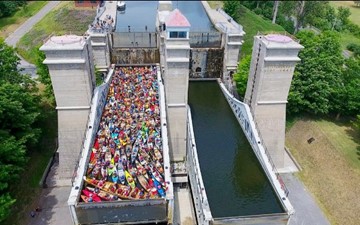 Fort Assiniboine BiCentennial Brigade – Athabasca River
The Fort Assiniboine Bicentennial Voyageur Canoe Brigade will be July 6 to July 13, 2023 from Whitecourt AB to Athabasca AB. The trip will be 6 days on the river plus a layover day at Fort Assiniboine to take in the bicentennial events.  This is a trip of some 340 kms.  Given the 200th anniversary of Fort Assiniboine, and that the river was once very important as a main fur trade route, and utilized by the likes of David Thompson, George Simpson, and Paul Kane, paddlers should be interested in participating.
The Route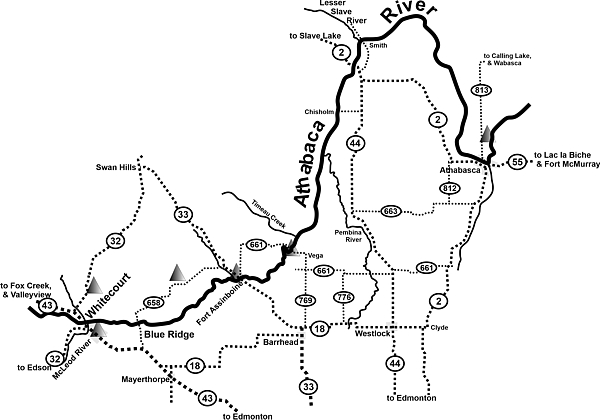 A past brigade on the Athabasca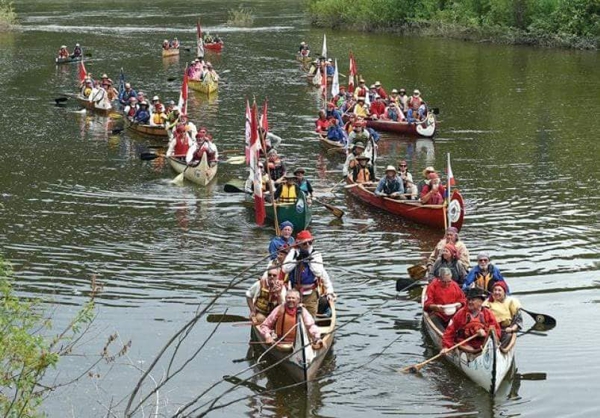 for 2024
Watch for announcements!