Final Crew Registration & Payment link
will be open May 24 to June 13
Safety Plan link
Brigade Itinerary ( as of 18-May) link
Crew Leader & Crew Initial Registration link
CLOSED
CVBS Participant Registration link
You MUST have a crew position
confirmed prior to completing 
the Participant registration.
From Brigade Committee
2023 Mar 22
Algonquin Outfitters has seven 25′ replica North Canoes, all in a fairly heavy fiberglass construction, that they are willing to rent to Brigade captains.  Rental rate is $150/day, though for a 12 day rental, a group would get a 25% discount. Total rental would be $1350 plus HST: $1525.50 including tax. Delivery would be extra.  Depending on where  groups are starting and finishing, delivery charges would be in the $300 to 400 each range. If that kind of cost is viable for a team, AO would be happy coordinate rental and delivery. Please call Gord Baker at 1-800-469-4948 if you have any questions.

If you need information quickly, check out Algonquin Outfitters  web site at http://www.algonquinoutfitters.com. Along with a lot of great information, all packages, rental items and rates are listed there.
Brigade Fees: Initial Registration Deposit $500 + Final Registration Fee $3250 (estimate) = Total fee $3750 (estimate).  Final expenses are yet to be finalized
From Brigade Committee
2023 Mar 12
The Trent- Severn Waterway Brigade 2023 – July 27 to August 7 th , 2023
We are happy to announce that pre-registration for the Trent- Severn Waterway Brigade, July 27 to August 7th, 2023, will open shortly. The pre-registration is to identify the canoe crews interested in paddling the brigade this summer as a team crew with access to their own boat. While the Brigade has be constructed around celebration of the Trent- Severn Waterway and the opening of the new Canadian Canoe Museum in Peterborough, we have recently been informed that the museum will not be open by the time of our arrival. The Canadian Canoe Museum has, however, guaranteed a warm welcome to
Peterborough with exclusive programming for the Brigade. Pre-registration and the follow up final registration are being handled through the Canadian Voyageur Brigade Society. The links will be provided by Zone 4 which is managing the electronic registrations for CVBS. Pre-registration cost per canoe Crew
will be $500. This amount will be deducted from the final payments due at final registration.
Due to the logistics of moving a large group of paddlers through the Trent -Severn Waterway in mid summer, the Brigade registration will be limited to 15 Voyageur Canoe Crews. As we expect this Brigade to be popular, the Trent- Severn Brigade organizing committee is endeavoring to ensure a brigade with broad representation of Canadians from coast to coast to coast, both by age and region. Should the Brigade be oversubscribed, the organizing committee reserves the right to sort Team Crew applications based on various criteria. Consideration will be given to time of registration; secondary considerations will be to ensure representation from youth and enable representation from across Canada. Given this Brigade may be oversubscribed, the organizing committee will not be sponsoring a boat / team for individuals not already associated with a team. We will however maintain a list of those interested in joining a team and make that available to all captains/organizers. People wanting to apply to teams as "unattached" paddlers should recognize that they must take out a CVBS membership and may be required by teams to also have a club membership or other qualification.
Please read the information included in the pre-registration process upon release.  It will answer many questions you may have about the brigade. Following the close of pre-registration, we will organize a virtual meeting to detail specifics of the Brigade and answer questions of all Team Crew Chiefs. 
Logistics: 
The Trent- Severn Brigade will assemble the afternoon of July 27th  in Penetanguishene on Georgian Bay. After a day of crew familiarization and safety training, we begin paddling July 29th, entering the Trent Severn Waterway at Port  Severn. Some 240 km and 24 locks, 2 Lift Locks and a Big Chute later, on August 5th we will arrive in Peterborough, home of the new Canadian Canoe Museum. The following day we will paddle to Rice Lake for a day of celebrations with the Hiawatha First Nation. 

Equipment available: 
The Trent- Severn Brigade 2023 has confirmed 7 Voyageur Canoes available for rent
from a commercial outfitter in central Ontario; we have also confirmed these can be
delivered to the start of the Brigade and picked up in Peterborough at end of Brigade, at
cost. This information will be included in Pre-Registration information. Each Team Crew
will be responsible for making their own rental arrangements. A limited amount of
camping equipment may also be available for rent to out of province crews.
We look forward to you joining us to paddle this historic waterway this summer!
*****************************************************
Winter 2022-23 Advance note:
In 2023  the Canadian Canoe Museum will move from its home in a former outboard motor factory in Peterborough to a state of the art facility on Peterborough's Little Lake.  To celebrate the new museum's opening, a brigade of  voyageur canoes and  paddlers from across Canada will paddle some 250 km through the Trent Severn Waterway to the new museum's waterfront home.
From July 28th to August 7th 2023 the 2023 Trent-Severn Waterway (TSW) Brigade will travel from Georgian Bay through the 24 locks, lakes and canals to the site of the new museum. Acknowledging traditional territories through which we will travel ,TSW 2023  has invited the Chippewas of Rama and Georgina Island First Nations, and the First Nations of Beausoleil, Curve Lake, Hiawatha, and Alderville to participate.
The Route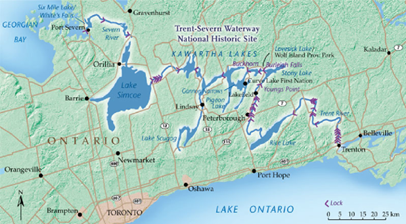 Last lock before the Canoe Museum in Peterborough